Meet the Chandlers
Meet the Chandlers: Amy, Chris and their sweet kiddos Brandon and Elise. They were referred to Cornwell Real Estate by a mutual friend that connected them with Traci Cornwell. When they first met with Traci it was via facetime because they were living in Richmond, Virginia . Chris is a composer of acoustic and electroacoustic music and was serving as a Visiting Assistant Professor at the University of Richmond where he taught courses in composition and music technology. Amy helped to open a midwife- run birthing center and worked as postpartum unit secretary in a hospital before starting nursing school in January 2019.
Why did you decide to move to The Capital District?
Chris was given an amazing opportunity at Union College as the Assistant Professor of Music (Learn more) and he decided to take the position. They put their home on the market in Richmond, Virginia and it sold in less than a week. Finding them a home in the Capital District was necessary due to the fact that they needed to be moved out by the end on June. Time to get to work!
(Pictured above is their home in Richmond)
Was it scary buying a house from 500 miles away? How was technology a part of your home buying experience?
"Overwhelming for sure! We were not first time home buyers, but this was the first time we were buying from afar. We knew close to nothing about the Capital area before beginning our search. Technology played a huge part. We started off by looking at listings on Realtor.com and Zillow, just to get an idea of what the price ranges would be for the house we were looking for. We also were able to organize our searches by creating a commute radius from my husbands future workplace, which was helpful not knowing the area. When we found houses we liked we would send them to Traci so she could get a better idea of what we were looking for, and could begin the search from up here. She took our long list of "wants" and translated that into neighborhoods and suburbs that were within our budget."
Most challenging part of the process?
"We hit a couple of different snags. The first was not being able to see many of them in person. Photos can only show you so much, and it's hard when you can't get a "feeling" for the property and the neighborhood. We were looking in the spring market so houses were going fast, and it wasn't easy planning last-minute trips from 500 miles away. We were very grateful that Traci was willing to check out a few of these houses for us, and we followed along via FaceTime.
What was your favorite part about the home buying process?
"Our favorite part of the home buying experience was when we took a second look at the house that would eventually be "the one". We brought our two kids (ages 5 and 3) to the showing and seeing their excitement about choosing their rooms, finding places to play, and seeing kids their age playing in the neighborhood really sealed the deal for us. We could finally picture ourselves owning in a home in NY. We put an offer in that same day."
(Pictured above is Brandon and Elise with some of the neighborhood kids they have become friends with at their new home in Glenville, NY)
What resources were most helpful?
"We were grateful that Traci introduced us to Mike Rankin at ClearPath Mortgage who was invaluable to our home buying process. She also had great recommendations for home inspection, septic and environmental contractors. This was important because again we were doing this from 500 miles away so it was difficult to weed through all the possible contractors. Each of her recommendations turned out to be a great fit."
(Pictured to the above is arriving at their home for the first time and seeing it in person)
Anything Else You want to add to your experience?
"We are grateful we ended up with a house we could grow into! We found out 5 months after we moved in that we are expecting our third child. The kids are so excited to help decorate the new nursery"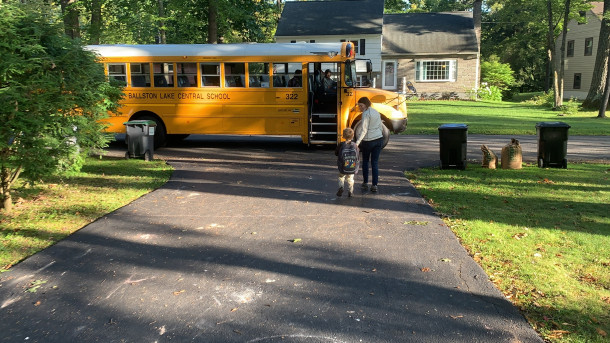 Brandon's First Day of School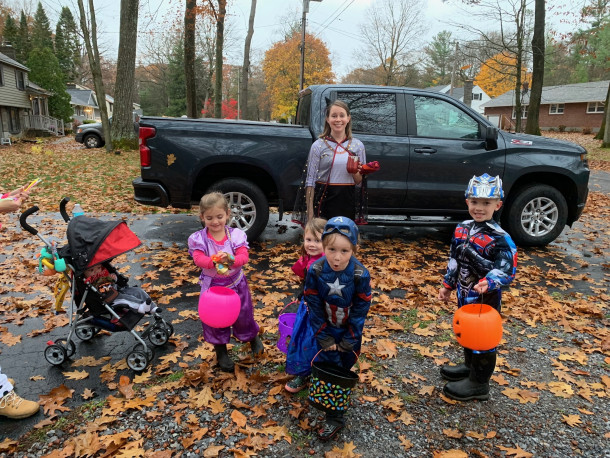 First Halloween at the new house with all the neighborhood kids!
Painted kitchen since moving in
Review From the Chandlers
Traci came highly recommended to us and helped us with our 500 mile move from Virginia to NY. We were pretty specific about our needs, and it's not an easy job to find a perfect home for a family who can only physically visit the area one time (for about a week) before purchasing! We ended up finding a house that surpassed our expectations and very happy with how things turned out. Thank you Traci! Read more reviews at realtor.com